Three days in Tulum, Mexico
I am finally getting around to blogging about our honeymoon in Mexico! In today's post I am only covering our first of three stops, Tulum. Stay tuned for our other two stops during the trip coming really soon. I did not take my "big camera" on this trip so hang in there while you scroll through a mix of GoPro and iPhone shots!
We traveled right after Thanksgiving and honestly, it's our absolute favorite time of year to jet off somewhere. Usually if you fly the Friday - Saturday after Thanksgiving, you are avoiding the insanity of the Sunday before people go back to work. Most of the country is settled down with their families still, enjoying the long weekend.
Tulum was our first stop, an effort to disconnect and really, truly relax. Tulum, to us, was this really trippy mix of ancient authenticity and modern hipster. Every aspect of the area is both old and preserved while influenced by what young tourists are craving in 2017. You cannot flush the toilet paper (the infrastructure is both old, unable to accommodate the massive growth of people and limited by the surrounding preserved areas) but you can get some of the best, mixology inspired drinks at restaurants owned by renowned NYC chefs.
Side note, there are two areas to Tulum - the town itself which has its good and bad spots but isn't what you see on Instagram or Pinterest when searching Tulum + the coastal area south of the town which is what is up-and-coming lately.
I struggle to find a way to explain Tulum but I've lately been in the habit of calling it a stunningly gorgeous oxymoron.
We stayed at Nueva vida de Ramiro, a low density ecological hotel, in their Ola Suite right along the most incredible beach that we have ever seen. NV is a small collection of wood bungalows on stilts with grass thatched roofs. In our bungalow, you could look down through the floor and see the white sand below. The hotel is run by renewable sun and wind energy and does offer a few modern amenities (we were able to charge our phones using the one provided low-energy outlet) and there were lights in our room. Plus, there was a tree in our shower. Yep, you read that right.
Let me just start by saying... we absolutely loved every single thing about NV. From the open air lobby to the wonderful included breakfast, we were so smitten. And we wish we had stayed longer. We really, really hope to go back some day.
Nueva Vida de Ramiro taught us an important lesson about our travel preferences - we don't need stuff. We don't like over-attentiveness. We really cherish feeling like we are casual explorers and just having an intimate, quiet, comfortable and breathtaking space to just... be.
Since 1998, NV has collaborated with the Riviera Maya Tulum Sea Turtle Conservation Program and there was even a little protected space for turtle nests right outside of our bungalow. You can read all about their dozens of different "green efforts" here. I found this resort simply by searching various travel websites + Google for an affordable eco resort along the southern part of Tulum closer to the bioreserve. Affordable is key here. Tulum is not cheap.
Our first morning in Tulum we woke up to watch the sunrise over the Caribbean Sea right out in front of our bungalow. It was a bit chilly but warmed up to be a really wonderfully hot day. Watching that sunrise and then having breakfast on our porch was the perfect way to start our days in Tulum.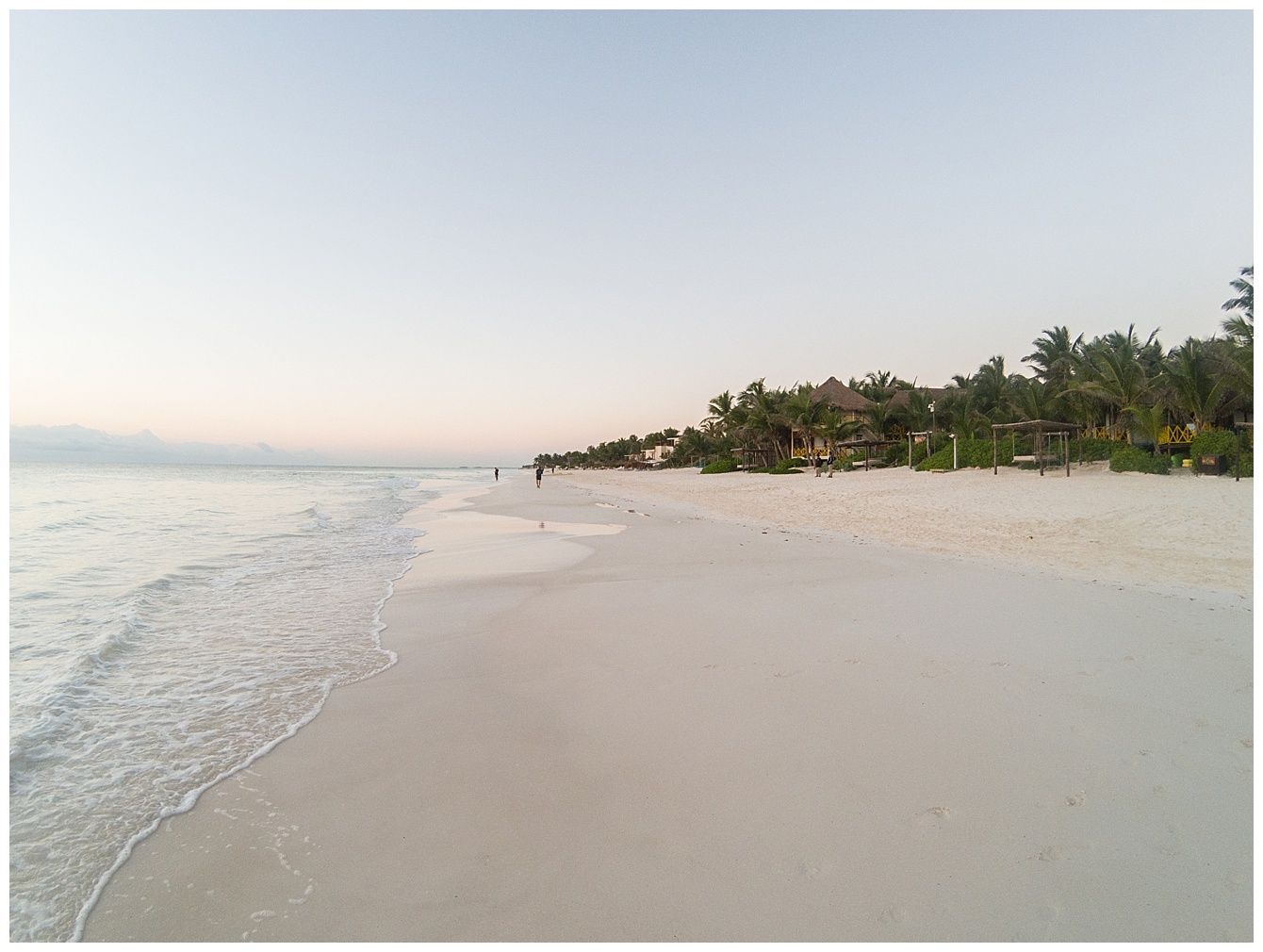 Remember how I said Tulum was an oxymoron of sorts? It's both ridiculously chill but also mildly ostentatious. Most of the beaches are topless and cannabis is abundant.
The food is some of the best we have ever had but cheap eats are hard to come by along the coastal parts of the town. Most restaurants do not use electric appliances and dishes are cooked in wood fired ovens and over open flame. Seriously, I would go back just for how incredible the food was. We loved the cheap tacos, chill feel and music right along the beach at Taqueria La Eufemia + our insanely good dinner at the more upscale La Zebra (also a hotel). Our hotel partnered with Casa Banana, just across the street, which had the most incredible Argentinian food!
We did a lot of just laying on the beach and floating in the jade green waters...
Our last morning in Tulum we took a taxi to visit the famous Tulum ruins - the remnants of a pre-Columbian Mayan walled city situated on a cliff overlooking the most incredible beach that I have ever seen. It was definitely the most perfect way to end our stay in Tulum but also made it hard to leave!
In a nutshell, Tulum really stole a little piece of our hearts.